10 February 2016
featured
Like a thick physical journal packed with endless scribbles and tireless reworkings, All the Delicate Duplicates has gone through a great number of incarnations and interpretations. Although some of it can be found recorded on paper, this legacy mainly takes the form of thousands of shared Dropbox files, Unity backups and Photoshop documents. And although we would undoubtedly consider #DelicateDuplicates to be a "digitally born" work which has almost completely evolved entirely out of digital experimentation and spontaneous reaction, as we've progressed the game we've certainly incorporated narrative threads and assets created outside of the digital.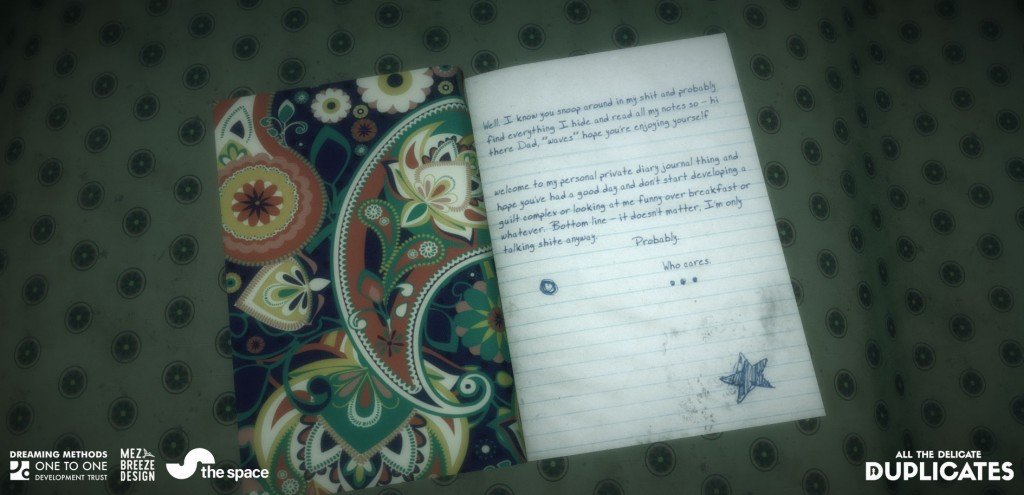 We've ended up incorporating into All the Delicate Duplicates a vast array of creative material handcrafted outside the confines of a digital setup, with everything from pen-and-pencil-scribbled notes, notebooks, and standard painting canvases/surfaces used to create assets that help make up the core of the game. From jotting down core concepts to nailing exact dialogue exchanges, a manual writing process hasn't flown out of the window by any means as you can see from the photo collage below.
The actual storyworld presented in #DelicateDuplicates incorporates a mimicry of natural media in the form of paintings, books [a child's school art journal; a teenager's diary; an adult's diary containing psychological ramblings], calendars, reports, chalked notes and illustrations. Although these sections don't involve a great deal of involved interactivity – you can literally go back/forth through the pages and that's about it – they wonderfully soften the digital tone and very much add a human element to the overall narrative.
Since the story spans a long time period [from 2006 to 2019, which is highlighted through lead characters' John and Charlotte's domestic home environment] it's possible to see how technology begins to replace print-based media as a means of recording our characters' thoughts and creative expressions. Hand-written pages, journals and diaries transform into laptops, phones and tablet devices.
As digital writers/artists, this isn't far off a reflection of how we ourselves have experienced an increased transition to digital when it comes to writing and creativity, landing us almost exactly in the position we're at now: using computers/devices and game-engine tech to fully realise the stories we want to tell to contemporary audiences.